Watch Super Bowl Sunday 2016 Live Online Outside The U.S. with VPN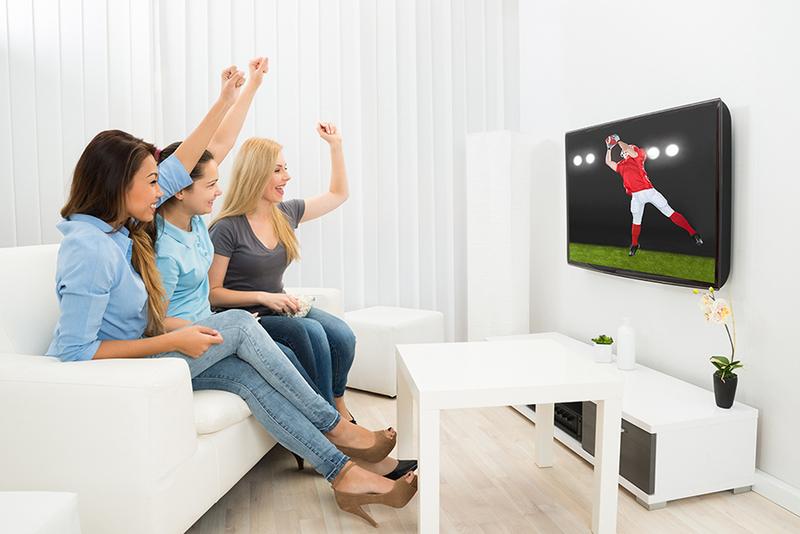 There's one event that comes after New Year's that millions of people all over the world look forward to – and it's definitely NOT Valentine's Day, because who looks forward to that? Ugh. At least there's one good thing happening in February this year. Yes, I'm talking about Super Bowl Sunday, the U.S.'s biggest, craziest sporting event of the year. This year is Super Bowl 50, and the game kicks off on Sunday, February 7th 2016 in Santa Clara, California at 6:30 pm Eastern time. That's GMT-5:00 for those outside the United States. I hope you're big football fans, 'cause it's gonna be a long night.
Speaking of football fans, what if you love American football, but don't live in America? American-style football has around 400 million fans worldwide, and last year, Super Bowl 2015 had 114.4 million viewers. Outside the U.S., fans will be watching Super Bowl Sunday in parts of Europe, Africa, Asia, and Australia. Some of them pay money for it, because the Super Bowl is all about money. It's tough to watch the Super Bowl live outside the U.S. without having to pay to add it to your cable TV package, or buy it as a video on demand event. That's why many people have taken to watching Super Bowl Sunday online.
The good news is, if you're in the U.S., you don't need a VPN to watch it. You can just go to http://www.cbs.com/superbowl/, because they're going to stream it for free, although this is a recent development. 2013's game lost viewers, in part because American fans got tired of paying to watch the game in their own country. The NFL lost a lot of money because of this, so now you can watch the Super Bowl live on the Internet for free, provided you're watching from the U.S.
Super Bowl Sunday 2016 Halftime Show Highlights
Lots of Super Bowl viewers only tune in to catch the halftime show, because it has performances by international superstars. My guess is that the halftime show is the biggest draw for international viewers. Many watching outside the U.S. prefer "world football" (aka soccer) to American football anyway, but the halftime show is an eye-popping, thoroughly American spectacle. It makes people all over the world want to see it. I'm sure the NFL knows this full well, which is why last year's game was broadcast in 25 languages across 180 countries.
Super Bowl Sunday seems to be on a mission to outdo itself every year. The 2015 halftime show went way over the top with Katy Perry singing and dancing with palm trees, sharks, a huge blinged-out lion, and retro 50s hot dog stand outfits. Super Bowl 2016's halftime headliner will be Coldplay, which seems like an odd choice, since Coldplay is not really known for epic, Michael Jackson style blowout shows. But they'll have a great light show, and it's been confirmed that Beyonce will also perform to bring a real "diva" vibe to the enormous crowd. Oh, and Bruno Mars is also expected to be there.
Why You Need VPN to Watch Super Bowl Sunday Live Online Outside The U.S.
The reason you need VPN is because of something called geo-restriction. I've already written a whole article about it, but I'll reiterate it here so you can understand one of VPN's main attractions. Geo-restriction – aka "geo-blocking" – is the practice of blocking access to online content based on the viewer's location. And the 2016 Super Bowl Sunday broadcast will be the most heavily geo-blocked online content this year, because viewer subscription fees via cable, apps, and sports websites are worth millions. The NFL does not want anyone watching the game without paying for it outside the U.S. They will determine your location via your computer's Internet Protocol (IP) address. Those without a U.S. IP address will be blocked from seeing the show. Unless, of course, they have VPN.
Unblocking restricted content is one of the main draws of VPN. The reason it works is because most VPN service providers have multiple servers located around the globe, and pretty much ALL of them have servers located within the U.S. You get to borrow the IP address of the server you select to use during your VPN session. And if that server is in the United States, you suddenly have a U.S. IP address. So, as far as the CBS and the Super Bowl are concerned, you're just another U.S. viewer watching the game for free. Even if you live in Africa, the request for the game's online broadcast appears to be coming from the United States, because the VPN server makes the request via its own IP address. It then streams the game back to you in Africa. Oh, by the way, Secure VPN does have a U.S. server you can use to watch Super Bowl Sunday next month. They also have servers located in the Netherlands, India, Luxembourg, Russia, and Singapore.
Potential VPN Speed Issues With Watching Super Bowl Sunday Live Online
Although VPN is awesome for getting around geo-blocking, it does add to the number of connections your content has to pass through. This sometimes leads to a loss in connection speed, which can be a real hassle when you're watching a live event. If you notice this problem, there are a few things you can try in order to fix it. Try connecting through a different server in the U.S. It may reduce lag times, and many VPNs have multiple United States servers. If you're watching the Super Bowl on public WIFI, try using a private Internet connection that's not shared among multiple users. Also, make sure you're watching on a machine that has enough computing power to stream live video. Mobile devices like notebooks and tablets are sometimes not robust enough, so maybe you can borrow your best friend's high-powered laptop. And when all else fails, try rebooting your computer. It's amazing how many problems that can solve.
Super Bowl Sunday 2016 is bound to be another garish display of American excess, which is why I can't wait to watch it! You too can watch it live online, even if you're a fan living outside the U.S. Just get VPN, and enjoy yourself.
Sale
Get Secure VPN