SecureVPN Press Kit
What is SecureVPN?
SecureVPN helps people stay private and feel the freedom of Internet. Our apps are available for all major platform and provide secure unlimited access to any website or app from any location. Happy users can enjoy watching videos, unblock services like Facebook, YouTube, Skype, WhatsApp, etc., download programs without restrictions at home, work, studies and while traveling. Moreover, SecureVPN hides IP address, therefore web-surfing becomes anonymous and private.

More than 16'000'000 of users have already installed SecureVPN.
SecureVPN website link: https://securevpn.com
SecureVPN Launch press-release: https://sg.finance.yahoo.com/news/xbt-holding-launches-securevpn-050000030.html
SecureVPN is brought to you by Webzilla Apps Inc, a US corporation headquartered in Lake Worth, Florida.
SecureVPN app capabilities:
- Anonymous web-surfing: IP address and identity are hidden.

- Fast & Secure access to Websites and Apps: ability to browse media, films, YouTube, social networks like Facebook, Google+, Twitter, Instagram, download necessary programs and more without any restrictions at home, work, studies and while traveling.

- Unlimited access to VoIP, video calls and messaging services: ability to Viber, Skype, WhatsApp, IMO, Facebook Messenger without worrying about privacy.

- Wi-Fi Security: VPN encrypts Internet connection and protects data while using public Wi-Fi hotspots all around the world.

- Data & Privacy Protection: military grade of VPN connection encryption gives the new level of online security and provides prevention from hackers robbery of confidential information.

- Easy switching between countries: ability to choose the country, where to surf Internet from.

- Simple button that turns VPN connection on and off.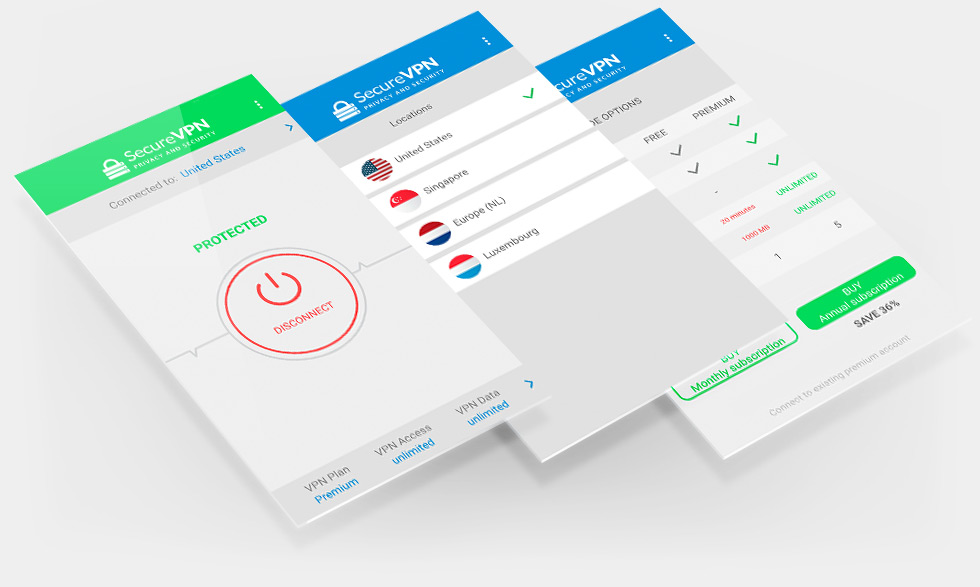 SecureVPN app supported platforms:
- iOS (8+)

- Android (4+)

- Windows (XP+)

- OS X (10.6+)
SecureVPN app languages:
- English

- Arabic

- Turkish

- Russian
Download link for iOS: https://itunes.apple.com/us/app/securevpn-free-online-privacy/id986008447?mt=8
Download link for Android: https://play.google.com/store/apps/details?id=com.securevpn.securevpn&hl=en
Download link for Windows & OS X apps: https://securevpn.com
Social networks:
Facebook - https://www.facebook.com/SecureVPNcom
Twitter - https://twitter.com/Secure_VPN_com
SecureVPN Banners: banners (zip)
SecureVPN Logo: logo (zip)
Press contact: